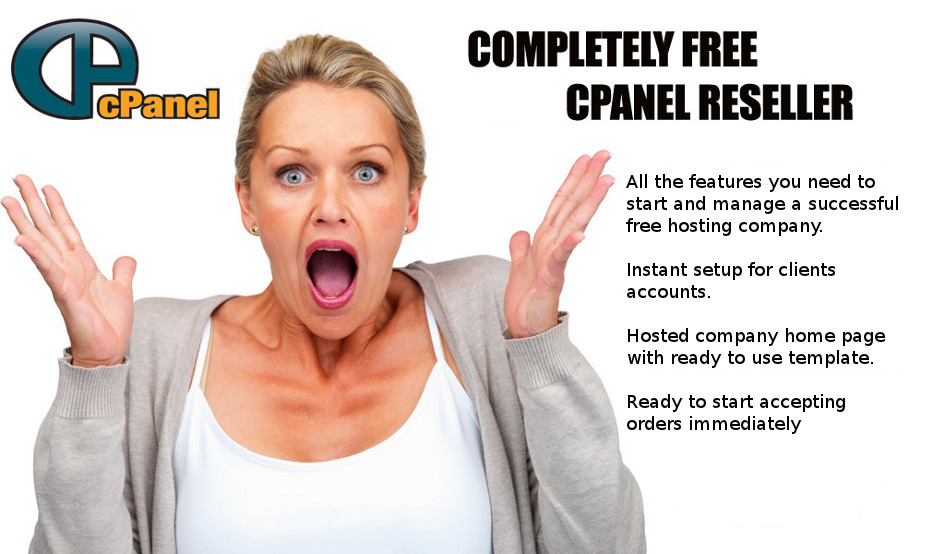 Our free reseller service comes with a reseller panel and a home page panel, the reseller panel is for managing your clients, adding more reseller domains etc. You are also provide a home page control panel that is used to design your hosting home page.
Start your own Free Host Today!

Overall reseller account quotas


These are the limits applied to your entire reseller account, every reseller allows you to create unlimited accounts, domains and use unlimited disk space and bandwidth:





Free Plan!

*MEGA FREE-HOST*

Resellers users
Unlimited
Unlimited
Resellers disk space
Unlimited
Unlimited
Resellers bandwidth
Unlimited
Unlimited
Resellers databases
Unlimited
Unlimited
Resellers domains
Unlimited
Unlimited
Resellers free domain
Must use your own domain name

.com .net
.org .biz
.info .us
.eu domain,
one year
with free
whois
privacy
Maximum individual user quotas


These are the limits which each customer or user account has



Users disk space

10 GB

Unlimited

MB

Users bandwidth

100 GB / month
Unlimited

GB / month
Users databases
10
Unlimited
Users domains
10
Unlimited
Users free domain

Sub
domain
Sub
domain


Price for reseller account

$0.00
FREE

$19.99
/ month
PayPal, 2Checkout, Visa & MasterCard

Special Notes
Free reseller domains are for new orders only and only for new .COM, .NET, .ORG, .BIZ, .US and .EU registrations
There are no overhead limits for the total number of users you can have under your reseller account
Set/customize individual client quotas using the reseller panel
Free reseller applicants must use own domain name, this must be a TLD (Top level domain)

Things to know
As a reseller you have no maximum amount for the amount of users you can have which means you can have more than 10,000 users, each with their own quotas on space, transfer, databases and domains!
Should you choose the free plan to get started, you can always upgrade later be it to a comprehensive Reseller Plan or ?? la carte with a piece at a time!